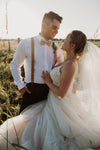 Caramel Faux Leather Suspenders
Caramel Faux Leather Suspenders
Not bad, but not great...
I ordered several pairs of the caramel suspenders for my groomsmen. When looking through the options on the website before purchase, I perused the different color options, and settled on the slightly warmer caramel color. Upon receiving, I noticed that the leather was a very flat, very obvious faux substitute, unlike the realistic leather look of the advertized suspenders that brought me to this site. I immediately got on my computer to check, and realized that the "tan" suspenders were the only ones with that realistic vintage leather look, which was almost impossible to detect viewing from my phone or computer screen. I also accidentally ordered an extra pair I didn't need, so I looked into returning the extra and exchanging the rest, but discovered that this was not an option. I'm taking one star off for the look of the leather, and another for the company's no-return policy. I'd understand if the item was an undergarment, but not when it's an accessory that would have been returned in unused condition, still in package.
Hello Ashley,
We appreciate your feedback and value your input. We do allow returns or exchanges for items unopened and unused with 2 weeks of receiving the product. Did you email us about an exchange? I can't seem to find the communication if you did.
Would love to work with you to find a reasonable resolution for you.
Sincerely,
London Jae Apparel Customer Care
Exactly what I needed
Worked great and look good!
Great Quality and Quick Delivery!
We gifted these suspenders to our groomsmen and the groom also had a pair. They looked great in photos, were great quality and the guys said were comfortable to wear all day. Even better - they came SO quickly! Which was great since my groom decided on them only a month prior to the wedding day!